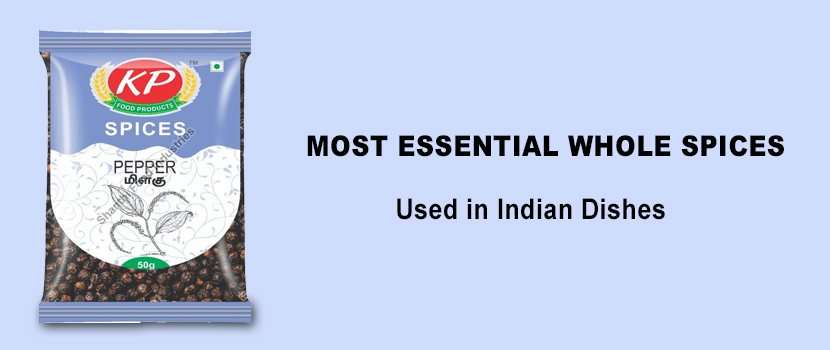 Due to the variety of spices used when preparing Indian food, the majority of people find it scary. Indian cuisine is built around spices. Any dish can become a tasty meal with homemade cooking.
Whole spices are utilized in herbal remedies as well as for cooking and health reasons. After meals, people chew on spices like cardamom and cloves to aid in good digestion.
Before being mixed into the spice mixture, the majority of the spices are dry roasted to release the required moisture. Let's talk about the renowned four spices offered by whole spices suppliers in India. These spices are vital for preparing Indian dishes in this article today.
Cumin
Typically, cumin is used to spice blends and entire foods to give Indian food a smoky flavor. The distinctive brown seeds with ridges and strong aroma help identify it. However, you can distinguish them by looking at their color. Sometimes, it is mistaken for fennel, anise, and caraway seeds.
If you are using cumin, make sure it burns easily while you are dry roasting the seed. This is because cumin is specifically intended to impart a smokey, pungent flavor.
Red Chili
Numerous chili pepper varieties are used to make red chili powder. It occasionally also contains a variety of other spices and is referred to as a blend of chili powder or a seasoning mix for chilies.
Additionally, it is used as a mixed spice to provide food dishes flavor and a strong flavor. Any food you add it to can benefit from its enhanced flavor.
Turmeric
The root of a plant known as Curcuma Longa is where turmeric, one of the most widely used Indian spices, is derived. Curcumin, a substance found in it, also aids in reducing edema.
This spice is frequently used to flavor or color butter, cheese, mustard, and curry powder. It is due to the warm and bitter flavor. Numerous health advantages, including alleviation from pain, inflammation, depression, fever, itching, and other conditions are known to exist.
Coriander Seeds
The spice that is used the most frequently in an Indian spice cabinet is coriander seed. The world's traditional form of spices can be recognized by their golden yellow color and somewhat ridged surface.
Citrus flavor and intense scent characterize the seeds. Whole coriander is said to be an excellent starting point for a number of different spice combinations.
One of the common ground spices that are used in Indian cooking is ground coriander. It must be dry roasted until the seeds are a light golden brown color and begin to dance and burst out of the pan.
Conclusion
When whole spices are handled properly, your favorite recipes will benefit greatly in flavor. Toasting and grinding entire spices is frequently the best way to get the most flavor out of them.
These include fennel seeds, in a spice grinder or mortar and pestle. When using ground cumin, coriander, or other spices, place the seeds in a small pot.
Then you can toast over low heat until aromatic. By toasting your spices, you may extract more flavor from each seed by releasing their natural essential oils.