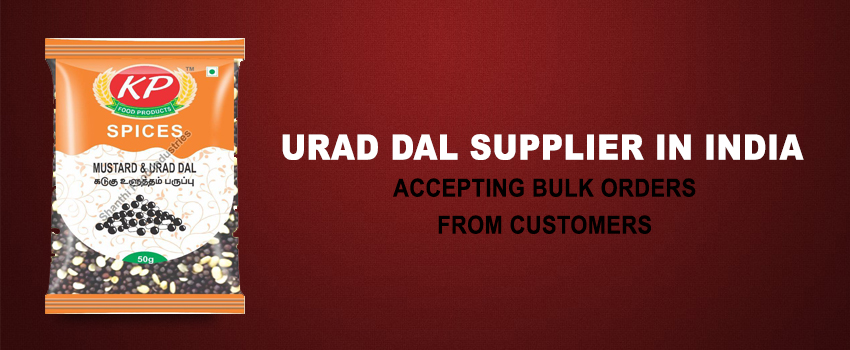 Urad Dal Supplier in India is accepting bulk orders from customers. Different types of dal are now available in the market.
When we talk about Indian Cuisine, the plate of a person is simply incomplete in the absence of dal. We have masoor dal or the red lentils, moong dal or the green gram toor dal or the yellow gram, urad dal or the black gram and. The majority of the pulses are used as whole and even dehusked. Spilt pulses are broadly used in Indian cuisine. Both North Indian as well as the South Indian dishes possesses a special range of pulses.
Indian cuisine is simply incomplete without the addition of delicious and healthy pulses. Urad dal is added to the list of one of the most popular dals widely liked by the people. Urad Dal Supplier in India supplies the best quality dal to buyers.
White urad beans are commonly made from dried beans by boiling them until they are soft. Then, they are cooked as any other dal is cooked with ginger, onion, garlic and spices.
There are three different kinds of Urad Dal:
• Whole urad
Whole Urad dal is widely used similar to a chilli or stew to a soup or dal. Having shiny skin, these lentil-like beans creamy white interiors, and whole urad dal possess strong and earthy flavour. If you wish to cook them, you need to soak them for more than 4 hours or overnight.
• Split black urad with skin
Split black urad with skin is divided into two parts without removing the outside skin of the dal. These soft white lentils have a milder flavour than whole Black Urad Dal. It is quite nutritious and highly rich in protein.
• Split-washed white urad
Completely washed and split white Urad dal is quite simple and fast to make. This dal is just right to make dal tadkas or even batters very delicious and flavourful.
Urad dal is widely used regularly in South Indian Cuisines to create batters for idlis and dosas it gives a binding stuff to rice. It gives crispiness. It is an essential ingredient in tempering the majority of South Indian dishes.
Health Benefits of Urad Dal
• White urad just similar to any other lentils and pulses are wonderful sources of dietary fibre and protein.
• They are rather low in fat and rich in B multipart calcium, vitamins, and potassium.
• It gives several of nutrients according to the demands of the body which include fat, protein, and carbohydrates. The foods rightly serve as the finest plant source of protein.
• The legume possesses the building blocks of protein required for good health.
• The iron, calcium, folic acid, potassium, magnesium, and B vitamins in the foods assist meet vitamin and mineral needs. An ointment prepared from black gram is helpful as an external application in contracted knees, rheumatism, and stiff shoulder.
Urad Dal Supplier in India is accepting orders from customers. Even bulk orders can be easily placed.