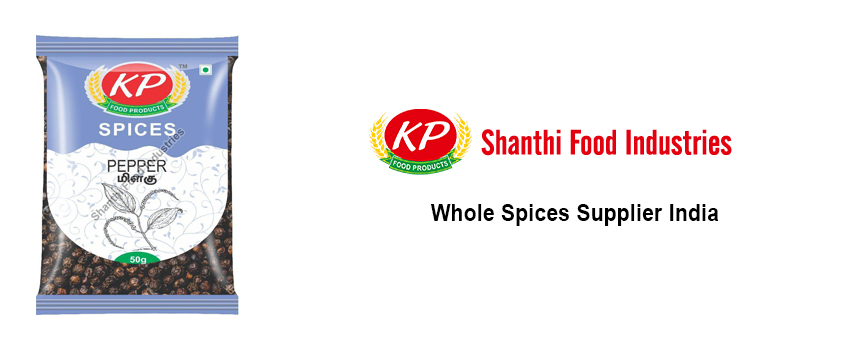 Whole Spices Supplier India is accepting orders from interested buyers for whole spices and makes the delivery all over the world.
Different kinds of spices are consumed by people all over India. Whole spices are commonly used to add up more flavor to the food. At the same time, it works as an anti-oxidants and appetizer. We can use the species in two forms which include the whole form or by chopping it into slices or pieces and preparing the powder or paste.
Here, we will talk about the top used varieties of spices offered by Whole Spices Supplier India listed below.
Chilies: no doubt, it is known as the king of spices in Indian dishes, and helps make the spicy and hot. The green chilies are required to dry out till they get red and used for making different food dishes by frying them with a little oil along with mustard seeds. A curry is imperfect in the absence of chili powder in India.
Pepper: Used in powder form, black pepper is commonly used in powder form either individually or simply by mixing with different kinds of powders.
Ginger: both dry and raw forms are used. Dry ginger powder has several health benefits as well. People use ginger in tiny pieces and fry along with green chili pieces in oil or add it as a paste in the processing.
Coriander: these are also used in powder form and used along with different spices with other spices to add food flavor. Green coriander leaves are widely used as a top-up flavor to several food dishes.
Turmeric: Lots of medical benefits are associated with turmeric and used in the fine-powered form. It gives an amazing color to the dish and brings special flavors to the food. Moreover, it defends the human body from diseases and allergies.
Mustard: It is added to the list of chief Indian spices and used whole spice. It is primarily used in "tadka" in different food items.
Cumin: these seeds are widely used along with mustard seeds and chilies for making different products by frying in oil. Cumin powder is even used in various preparations such as chaas (buttermilk) and raita (flavored curd), etc.
Tamarind: South Indian dishes are just incomplete in the absence of Tamarind. The juice of the tamarind is used in different food dishes. It is also helpful as a preservative for making pickles and chutneys.
Cardamom: there are two kinds of cardamom available in the market. One is small and the other green (small elaichi). It is widely used in sweet dishes and sweets.
Asafoetida: It is made from the plant's sap in a way of dried up and powdered. It is just helpful in food digestion and promises to give a wonderful taste.
Whole Spices Supplier India deals in the above-mentioned products. They are packaged in different quantities starting from small to large ones. It is easy to place your order and get the delivery on time.